Cuba - Conserving Magnolia cubensis ssp. acunae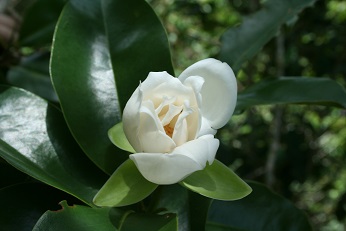 Magnolia cubensis ssp. acunae is endemic to the montane rainforests of Guamuhaya. This species grows between 700m and 950m, aligning with the elevation range that was previously occupied by rainforests, but has now been converted to coffee plantations. Rainforest clearance has led to the destruction of the habitat of Magnolia cubensis ssp. acunae and has resulted in the decline of this taxon, which is now evaluated as Critically Endangered. Habitat fragmentation and poor management of coffee plantations for conservation, threaten remaining populations of this taxon and other native trees.
The Guamuhaya range has a major ecosystem role, capturing rain and humidity from the clouds, and controlling soil erosion, runoff and flooding. Rainforest restoration is essential to protect the plant diversity of the Guamuhaya range and maintain this ecosystem role. Protection and restoration is also essential for economic sustainability, as the coffee growing industry located here is the main economic activity in the region.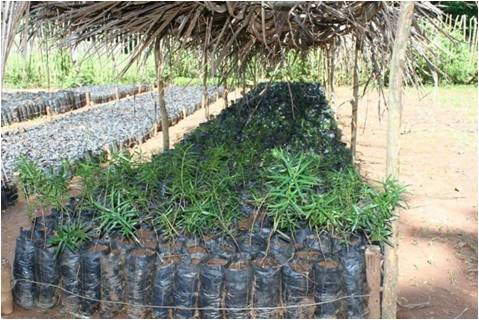 In 2013, propagation efforts at twelve local nurseries have raised over 1,500 individuals of both Magnolia cubensis subsp. acunae and Podocarpus angustifolius. Other rare and endangered species are also being grown in these nurseries but in lower numbers (including Aralia rex - 17 individuals, and Erythrinax helenae – 24 individuals).
Initial efforts to achieve natural regeneration of native trees have involved promoting the eradication of invasive plants, and the planting of native trees raised in the nurseries. So far, 124 Magnolia saplings have been reintroduced to the wild.
Two 3-day training workshops were held for local farmers and workers in Protected Areas, at Topes de Collantes (in June 2013) and Banao (in August 2013). The training focused on the identification of native and invasive plants, forest management techniques, natural regeneration management techniques, and the importance of native species and the rainforest for local communities. Two on-site project workers are continuously available to provide advice to farmers and conservation workers. Local farmers are keen to participate in conservation work, with plans being developed to set up four new local nurseries over the coming months.
In addition to this, an environmental festival 'Del Monte Soy' was organized in Topes de Collantes in August 2013. The festival included presentations and games to highlight the value of the local flora, the relationship between humans and plants, and the conservation status of plant communities in the region.
As this project progresses, propagation, reintroduction and awareness raising activities will continue, including the development of toolkits for nursery management to supply to coffee farmers.
The Global Trees Campaign (GTC) is a joint initiative between BGCI and Fauna and Flora International (FFI) to safeguard the world's threatened trees from extinction. Find out more about this GTC project and our work to save other threatened tree species on the Global Trees Campaign website.
Training in plant identification and sampling in the project area.