Case Study: Investing in Nature - BG Exchange Leads to Major Exhibition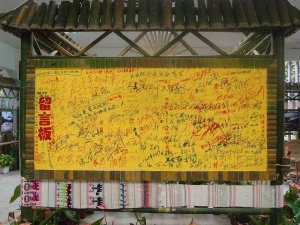 For thousands of years, Chinese artists have drawn inspiration from their country's rich and diverse landscape.

Today, their work is helping thousands of people understand how vibrant, unique and beautiful their country is – and how important it is to protect it.

Every year Hong Kong's Kadoorie Farm and Botanic Garden (KFBG) runs an annual artist-in-residence programme to help staff understand how they can make scientific education come to life.

As well as workshops, seminars and talks, artists create pieces to feature in exhibitions and festivals such "Dream Garden" and Garden's Whisper".

It was this innovative approach in promoting environmental conservation that so impressed Duan Qi-wu and Yan Tao – employees from the Xishuangbanna Tropical Botanic Garden (XTBG) in the Yunnan Province - while on a Botanic Garden Conservation International (BGCI) funded placement.

As a result of their experience, Duan Qi-wu and Yan Tao proposed adopting a similar educational approach at XTBG, initiated through a collaborative photo exhibition that would combine material collected by both botanic gardens.

"The photos taken by XTBG staff really related to the local people's lives, how their living is dependant on the forest and how the forests are being destroyed," explains Duan Qi-wu.

"It also emphasised their cultural traditions on the need to care for the land and called for more people to care and love their environment, protect nature, appreciate traditional cultures, and to protect biodiversity and cultural diversity."

Since the exhibition the relationship between XTBG and KFBG has continued to grow in strength.

As well as collaborating in plant conservation research, the two gardens are also looking to embark on other joint educational opportunities. Regular staff exchanges are also being organised.

"As a result, the role of Xishuangbanna museums in raising cultural and biodiversity conservation as well as ecotourism standards in the region can be enhanced.

"It will also help bring positive contributions to the sustainable development of the local economy and society."

More than 50,000 people attended the joint XTBG and KFBG show. Training was given to 80 XTBG staff by five officers from the Kadoories Farm Botanic Garden.