China Takes Action to Halt Looming "Biodiversity Crisis"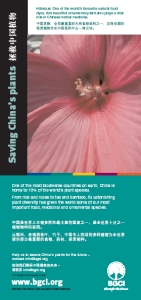 With its remarkable diversity of wild flora under threat from explosive economic growth, this week China announces a radical new 'National Strategy for Plant Conservation'.

Coming in the face of what scientists are calling a "burgeoning ecological crisis", this landmark strategy aims to halt China's continuing loss of plant diversity, helping safeguard the future of some 5,000 threatened plant species. The plan brings together 3 state agencies - for the first time - to create a uniquely coordinated, 'whole country' approach to plant conservation in China.
Downloads

Press Release - Word Doc (406 KB)

Summary of the Strategy - Word Doc (1.3 MB)

Promotional leaflet - PDF (246 KB)