Can't See the Trees for the Wood?
PRESS INFORMATION
Botanic Gardens Conservation International

How many plants would you recognise in their natural habitat? If you are a botanist or a keen gardener, you're answer would probably be "well, quite a few actually," but research from the USA suggests that you'd be in a minority, especially if, like most of us, you live in a town or city.

In a paper to be presented at next month's Botanic Garden Conservation International's (BGCI) 6th International Congress on Education in Botanic Gardens, hosted by the University of Oxford Botanic Garden (Sept 10th – 14th), US academics James Wandersee and Renee Clary outline their theory of 'plant blindness', which they describe as a failure to see or take any notice of the plants that occur in our everyday lives.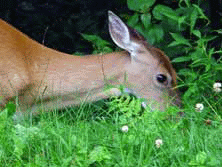 Do you think this is a picture of a deer -
or the hundreds of plants surrounding it?
Image James H. Wandersee and Renee M. Clary

According to Professor Wandersee, this phenomenon is particularly noticeable in industrialised nations, where the drift to the cities means that much of the population has lost touch with any meaningful understanding of agriculture and nature. The implications of such behaviour to those attempting to arrest habitat loss, protect plant diversity and engender a sustainable way for humankind to live on this planet is obvious.

However Professor Wandersee is optimistic that steps can be taken to reverse this process and argues that botanic gardens have a vital role to play.

Next month's Botanic Garden Conservation International's (BGCI) 6th International Congress on Education in Botanic Gardens is set to be its largest ever, a clear indication of the growing importance of education in the work of botanic gardens around the world. With upwards of 300 delegates from over 40 countries the Congress, entitled 'The Nature of Success, Success for Nature', is a unique gathering of the leading figures in botanic garden education.

As well as showcasing the latest thinking in botanic gardens education and sustainability, as gardens around the world grapple with the challenges of global climate change, habitat loss and the threat to plant diversity, the conference brings together an impressive platform of keynote speakers and offers an exciting programme of workshops designed to bring education in botanic gardens vividly to life.

For anyone interested in the challenges botanic gardens face in addressing the issues of sustainability, protecting plant diversity and, of course, education, BGCI's 6th International Education Congress is an absolutely indispensable source of ideas and information.


- ENDS-
NOTES TO EDITORS

Botanic Gardens Conservation International (BGCI)
Descanso House
199 Kew Road
Richmond Surrey TW9 3BW
Tel 020 8332 5953

BGCI is the largest international network of botanic gardens and related institutions working collectively for plant conservation and environmental education. Its mission is "to mobilise botanic gardens and engage partners in securing plant diversity for the well-being of people and the planet." Established in 1987 and with over 550 garden members drawn from almost 120 countries, BGCI provides technical and policy guidance as well as regular up to date information through its newsletters, magazines, conferences and courses. From influencing government policies and priorities to encouraging grassroots action, BGCI's global reach and professional expertise enables it to achieve real conservation milestones.

BGCI is holding the 6th International Conference on Education in Botanic Gardens - 'The Nature of Success, Success for Nature,' from Sunday 10 to Thursday 14 September 2006. Oxford Botanic Garden will be hosting the event which will address the following themes:

• Achieving sustainability: ideas and solutions
• Public awareness of plants
• Reflection on practice
• Education for all: working with challenging groups

Over 250 educators are expected from around 40 countries.
For further information and on the congress including keynote speakers please see: http://www.bgci.org/educationcongress


For all media enquiries, contact David Jeffreys on 020 8840 7931 or e-mail at:
david@jeffreyshome.demon.co.uk